I really am a sucker for unintentionally humorous signs. Here's another one I found in a restaurant near Gosford: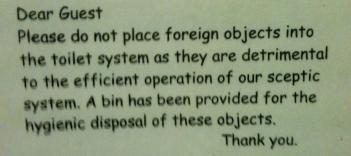 Talk about having your mind in the sewer…
This entry was posted on Sunday, July 18th, 2010 at 12:14 pm and is filed under General. You can follow any responses to this entry through the RSS 2.0 feed. Both comments and pings are currently closed.