Pamela had to have day-surgery on a knee at the Westmead Private Hospital. It is a fairly simple keyhole procedure known as an arthroscopy which always sounds to me like they put little spiders into your knee but I suspect it isn't quite like that. Mind you, they do it under a general anesthetic so it's hard to be sure.
It took longer than we expected so I sat and drank coffee in their enormous cafe/atrium area. It has a nice statue of brolgas to look at to pass the time.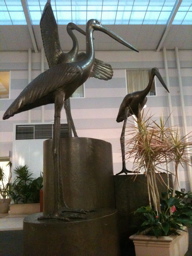 Click on the image for a high res version
At least being a private hospital it had decent coffee.
After two days, Pamela is walking again. Wonderful stuff, modern medicine.
This entry was posted on Friday, September 10th, 2010 at 12:57 pm and is filed under General. You can follow any responses to this entry through the RSS 2.0 feed. Both comments and pings are currently closed.