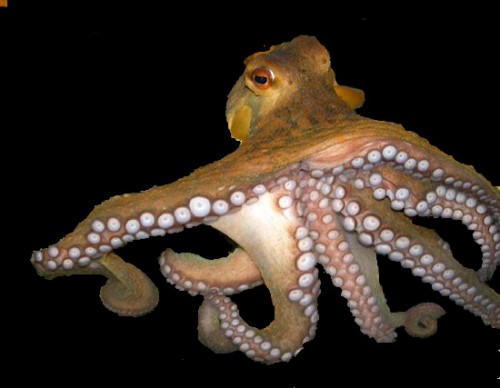 Alas, Paul the Psychic Octopus is dead. The tentacled oracle, who successfully predicted the results of all Germany's results in the World Cup finals, is no more. The Society of Psychic Cephalopods is mourning the demise of one of its finest members.
In a not uncommon confusion of cause and effect, many Germans blamed Paul for their loss in the final. In Spain, contrariwise, he became a national hero.
Paul even has his own Wikipedia page.
The conspiracy theorists have, of course, come out of the woodwork. A common theory is that another octopus was substituted for Paul who is still alive and living in luxurious retirement on the Costa del Sol.
Others suggest that a disgruntled German soccer fan poured poison into his tank from a hollowed out umbrella. Still others support the "lone spear-fisher" theory, in spite of the fact that the corpse had no visible injuries. Possibly the CIA was involved.
Unfortunately, it is probably true that the ashes of the cremated Octopus vulgaris are, in fact, Paul's mortal remains.
R.I.P. Paul, 26th October 2010. No flowers by request.
This entry was posted on Saturday, October 30th, 2010 at 4:12 pm and is filed under General. You can follow any responses to this entry through the RSS 2.0 feed. Both comments and pings are currently closed.