February 15th, 2011
There is a place fairly near us that does "Reverse Garbage" which is a place where you get rid of old bits of things without paying a dumping fee and where you can go and cheaply buy things that people have dumped.
Robert has been having fun building marble rolls and Rube Goldberg machines recently so we took him along to buy some cheap bits of tubing and anything else that might be of use. While we were there, we spotted a rather dusty-looking pedal organ.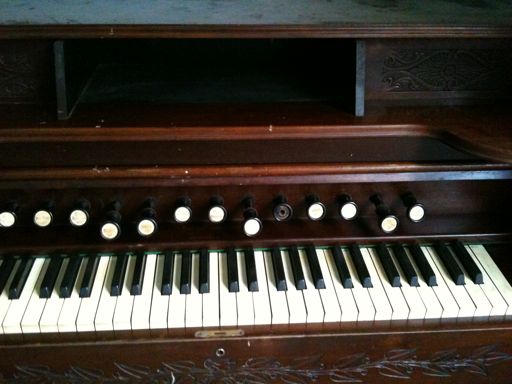 Click on the image for a high res version
A brief examination showed that it was still more or less working. The keyboard was intact and the various stops went in and out smoothly and it made a melodious noise when you pumped the pedals and pressed some keys. In fact, apart from a few dents it looked pretty good.
The price tag said $180. This seemed to us to be a ludicrously low amount of money so we bought it before anyone else found it. For another $20 we had it delivered and, two days later, it has arrived.
It was made by the Estey Organ Company in Vermont and imported by Naylor and Co. Estey (est. 1846) are apparently a well-respected brand and their better pieces can end up in museums.
This is not one of their major works of art but it looks pretty nice and, as far as we can guess, dates to somewhere around 1920 +/- 10 years. Our piano tuner also mends organs and will be coming around to check it out in a few weeks. He may be able to tell us more.
At the moment we are basking in the warm glow of what we believe to be a great bargain. And, even if it isn't, we're only down $200 and have a nice looking bit of furniture. Hard to go wrong really.
Posted in General | Comments Off on Organ